Python for Algorithmic Trading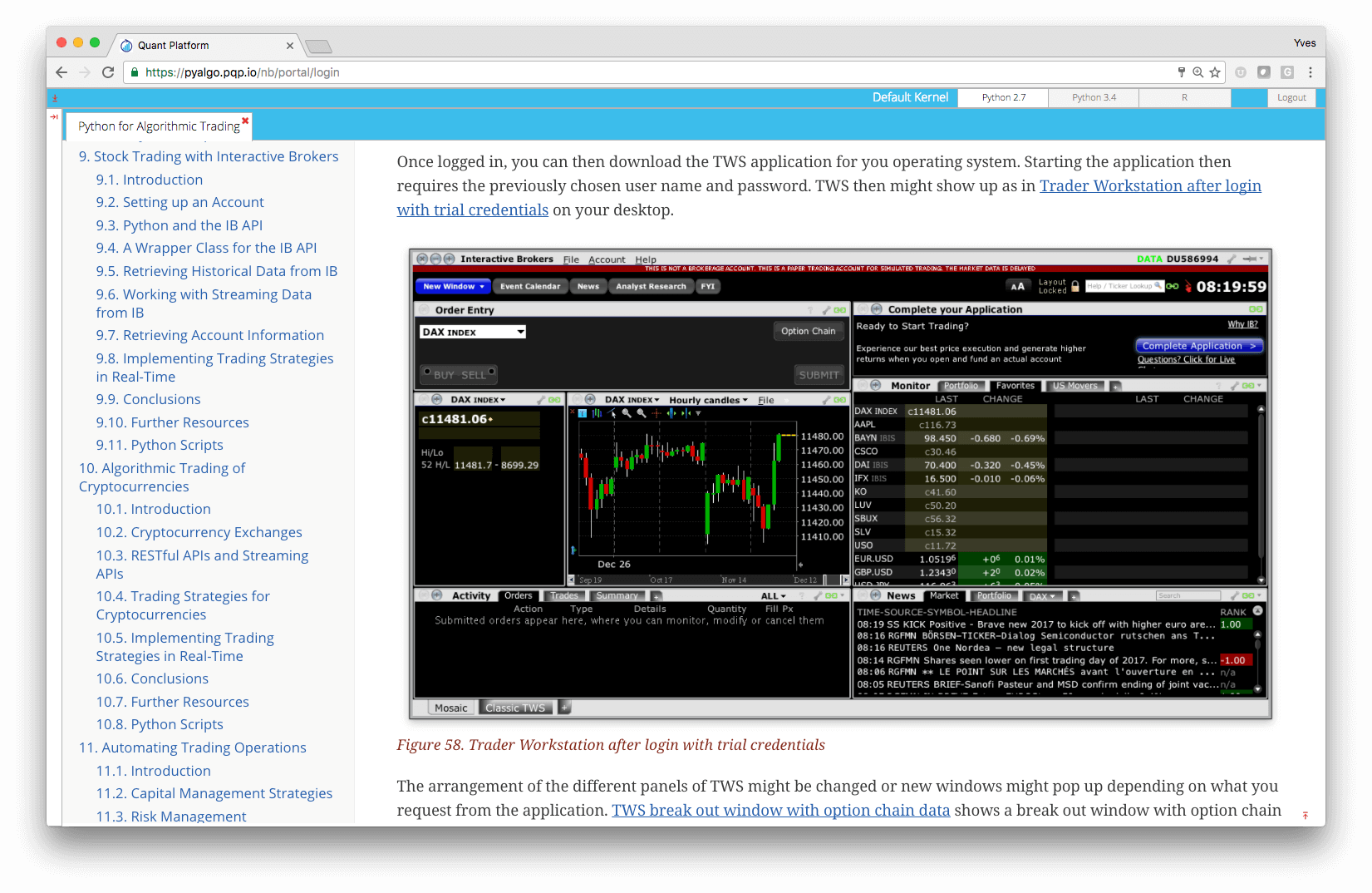 in-depth online training course
about Python for Algorithmic Trading
This is an in-depth online training course about Python for Algorithmic Trading that puts you in the position to automatically trade CFDs (on currencies, indices or commodities), stocks, options and cryptocurrencies. Currently, the course material is 450+ pages in PDF form (600+ pages including the Finance with Python material) and comprises 3,000+ lines of Python code.
Book the course today based on our special deal of
219 EUR
(instead of 299 EUR) — or read on to learn more. The
Finance with Python Course
(incl. 7+ hours of video instruction)
included. In addition, you get free access to
20+ videos
from recent talks, webinars and workshops.
The course is currently not available. The course content will be published as an O'Reilly Media book at the end of 2020.
Cancellations or refunds are not possible
since users get full access to the complete electronic course materials (videos, HTML pages, PDFs, Jupyter Notebooks, Python codes, etc.). The course resources are copyrighted and not allowed to be shared or distributed. The resources are instructional and illustrative only. They come with no warranties or representations, to the extent permitted by applicable law.
What Others Say About Our Courses
Great stuff! I just purchased it. It is the Holy Grail of algo trading! All the things that someone would have spent hours and hours of research on the web and on books, they are now combined in one source. Thank you "Prometheus" for delivering "fire" to mankind! Keep up the good work!
Thanks again for the course and I must once again congratulate you on a fantastic course and learning environment with the Python Quant Platform. It has substantially increased my ability with Python and also with general Linux infrastructure such as cloud servers, etc.
As a side note, I wanted to thank you for creating such a fantastic course. I really felt like I've learned a lot in a short time and definitely feel like you've given a great foundation for me to continue exploring the world of fin-tech. So again, a huge thank you!
Finding the right algorithm to automatically and successfully trade in financial markets is the holy grail in finance. Not too long ago, Algorithmic Trading was only available for institutional players with deep pockets and lots of assets under management. Recent developments in open source software, cloud computing, open data as well as online trading platforms have leveled the playing field for smaller institutions and individual traders. This makes it possible to get started in this fascinating field being equipped with a modern notebook and an Internet connection only.
Nowadays, Python and its ecosystem of powerful packages is the technology platform of choice for algorithmic trading. Among others, Python allows you to do efficient data analytics (with e.g. pandas), to apply machine learning to stock market prediction (with e.g. scikit-learn) or even make use of Google's deep learning technology (with tensorflow).
This is an in-depth, intensive online course about Python (version 3.5) for Algorithmic Trading. Such a course at the intersection of two vast and exciting fields can hardly cover all topics of relevance. However, it can cover a range of important meta topics in-depth:
financial data

: financial data is at the core of every algorithmic trading project; Python and packages like NumPy and pandas do a great job in handling and working with structured financial data of any kind (end-of-day, intraday, high frequency)

backtesting

: no automated, algorithmic trading without a rigorous testing of the trading strategy to be deployed; the course covers, among others, trading strategies bases on simple moving averages, momentum, mean-reversion and machine/deep learning based prediction

real-time data

: algorithmic trading requires dealing with real-time data, online algorithms based on it and visualization in real-time; the course introduces to socket programming with ZeroMQ and streaming visualization with Plotly

online platforms

: no trading without a trading platform; the course covers three popular electronic trading platforms: Oanda (CFD trading), FXCM Forex Capital Markets (FX and CFD trading), Interactive Brokers (stock and options trading) and Gemini (cryptocurrency trading); it also provides convenient wrapper classes in Python to get up and running within minutes

automation

: the beauty as well as some major challenges in algorithmic trading result from the automation of the trading operation; the course shows how to deploy Python in the cloud and how to set up an environment appropriate for automated, algorithmic trading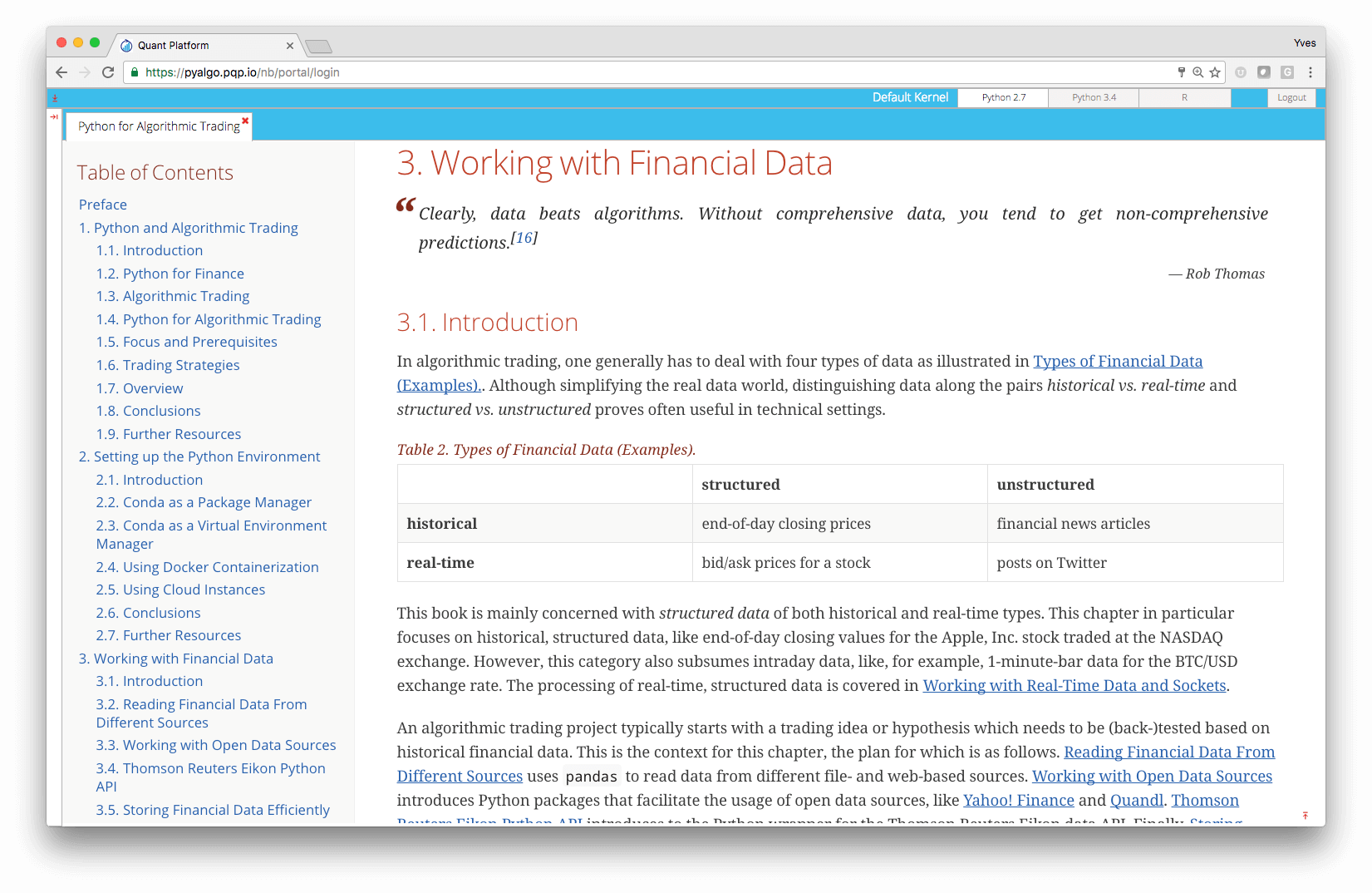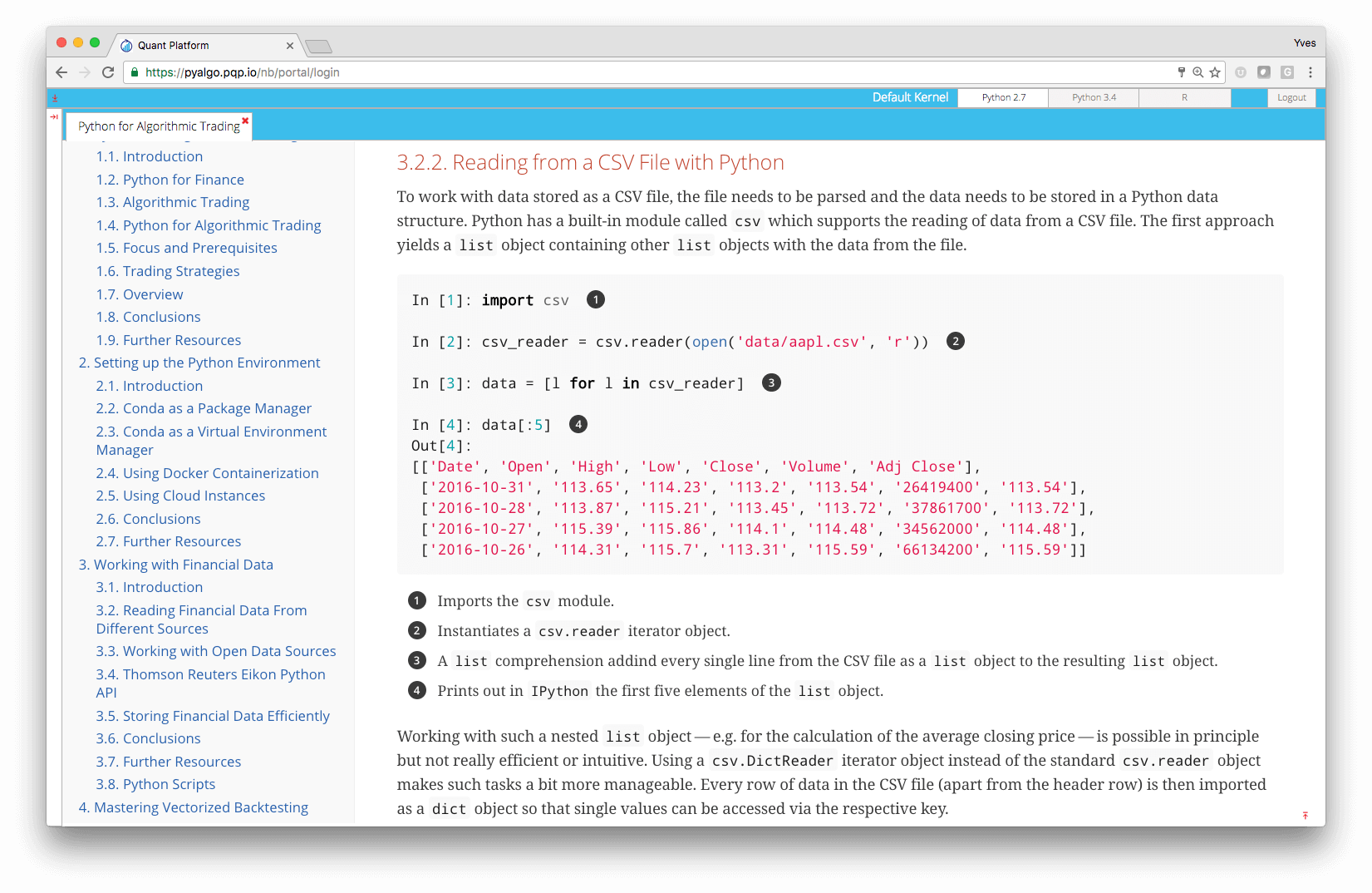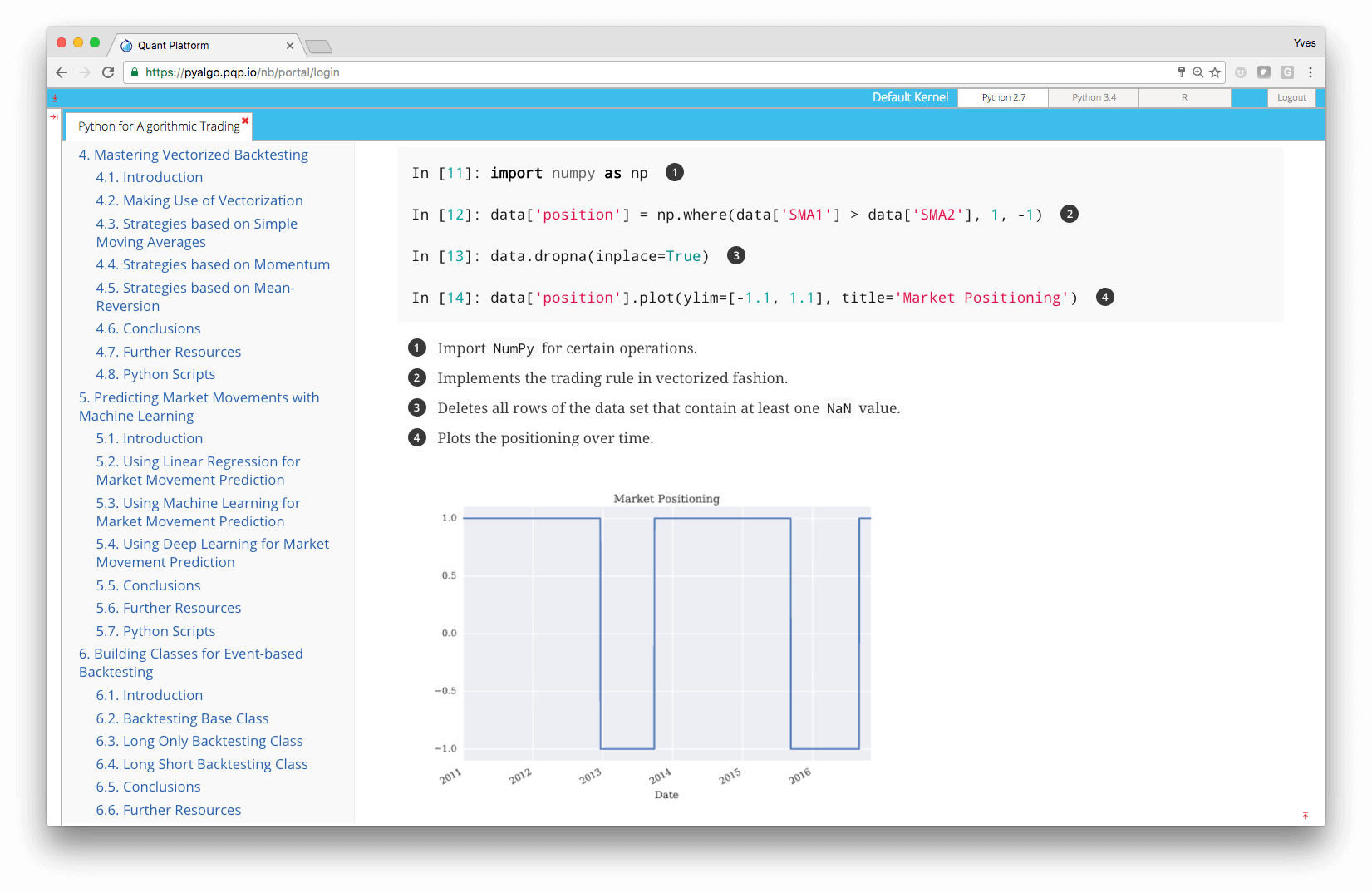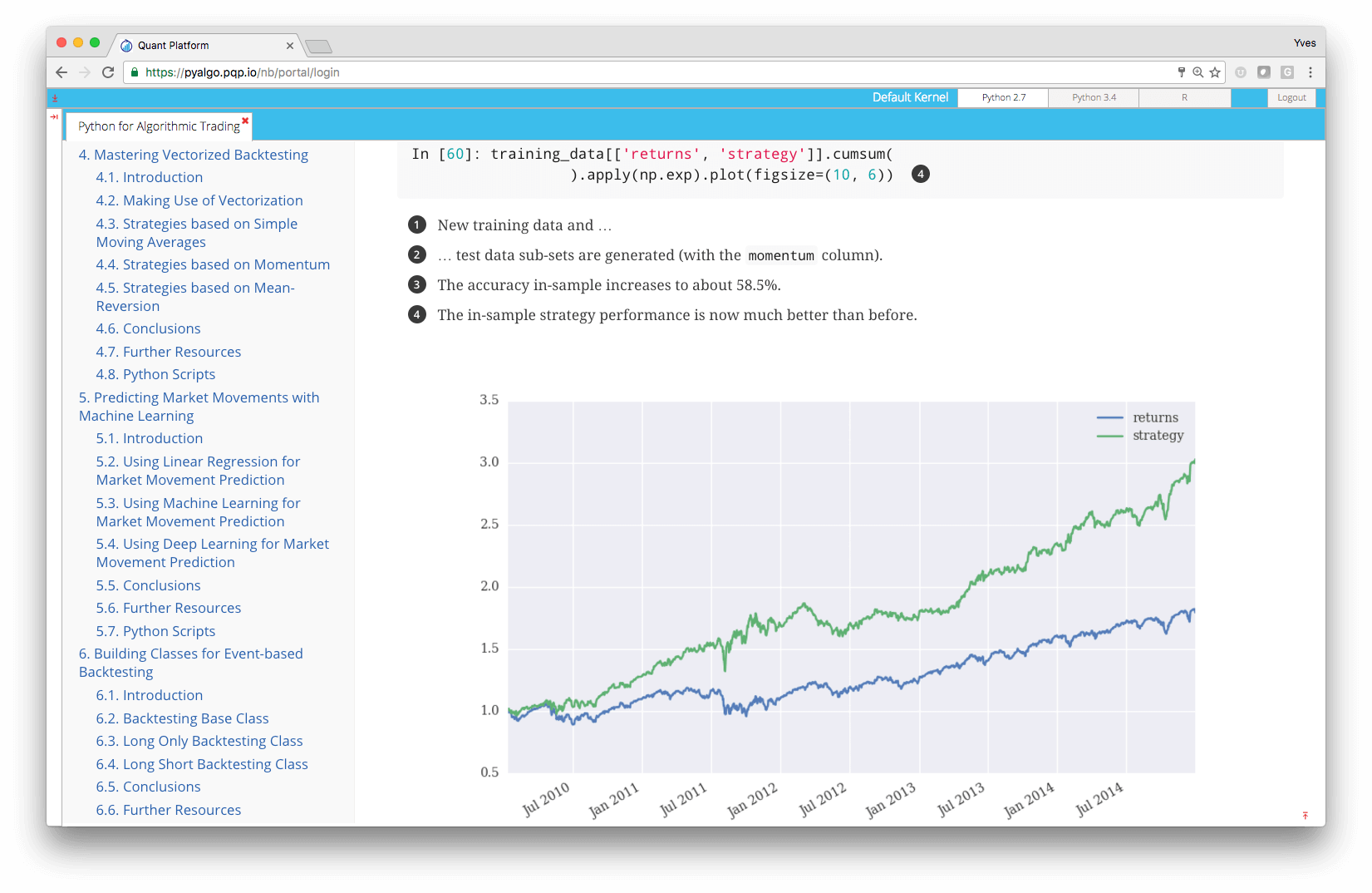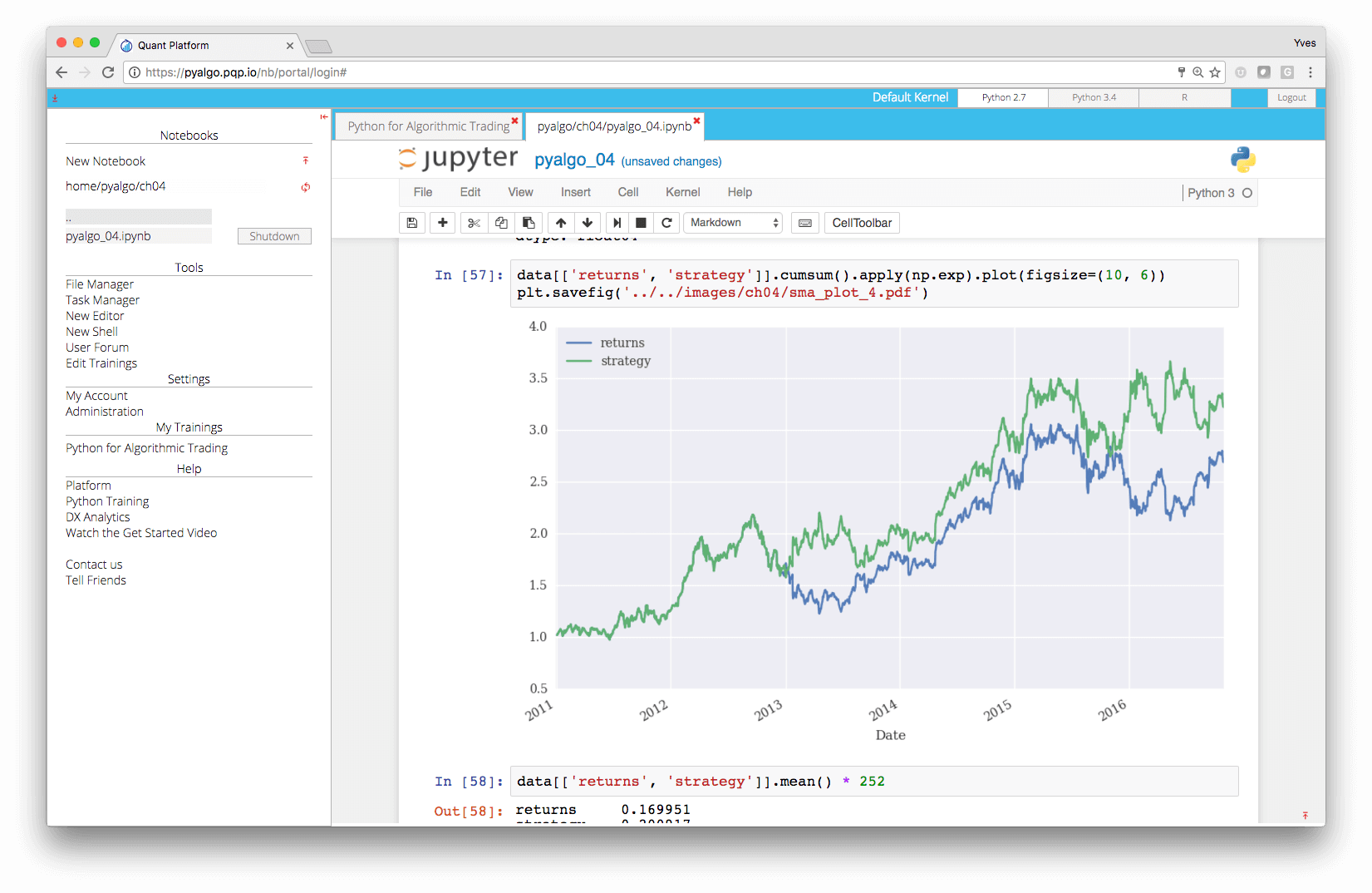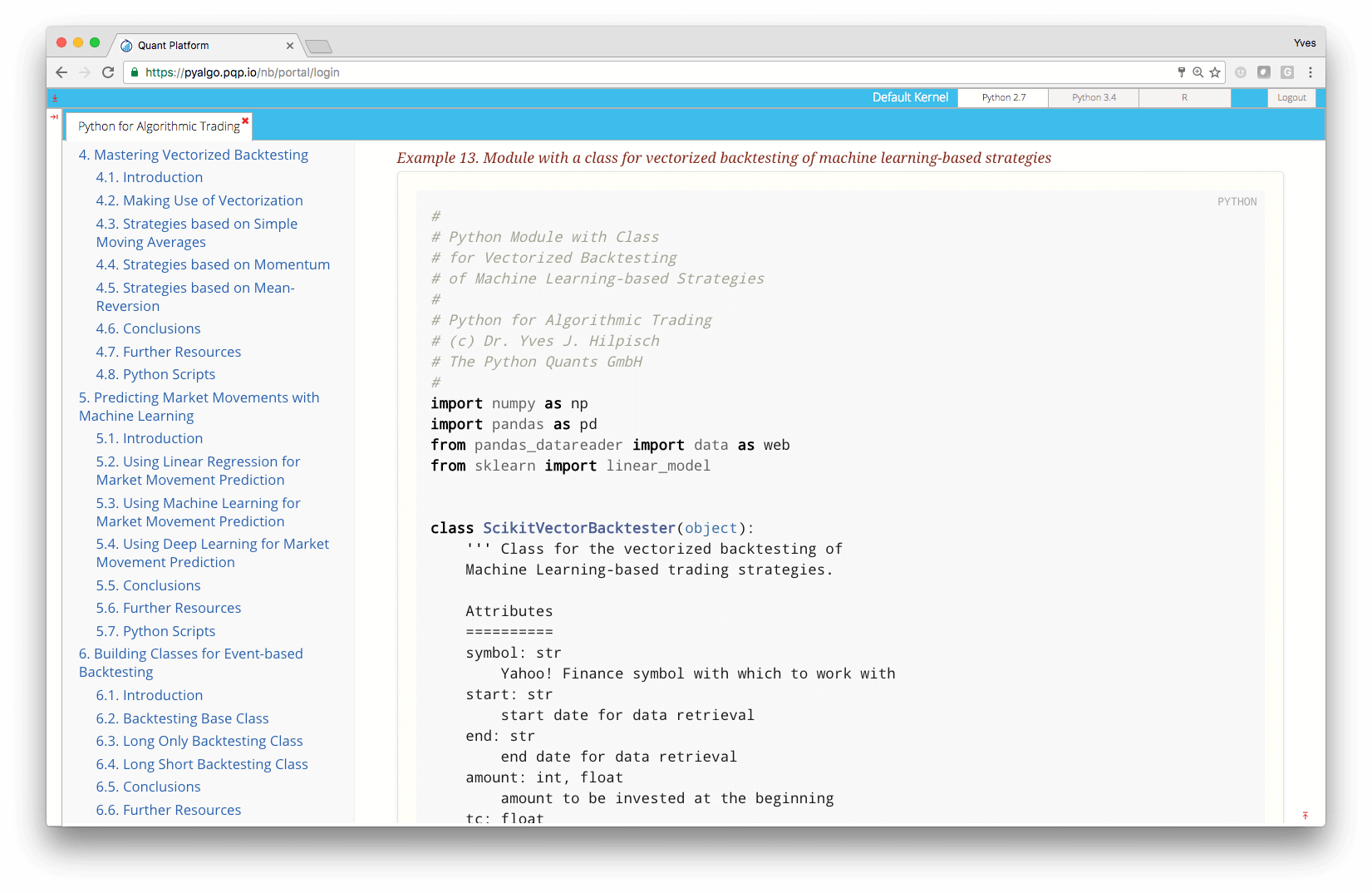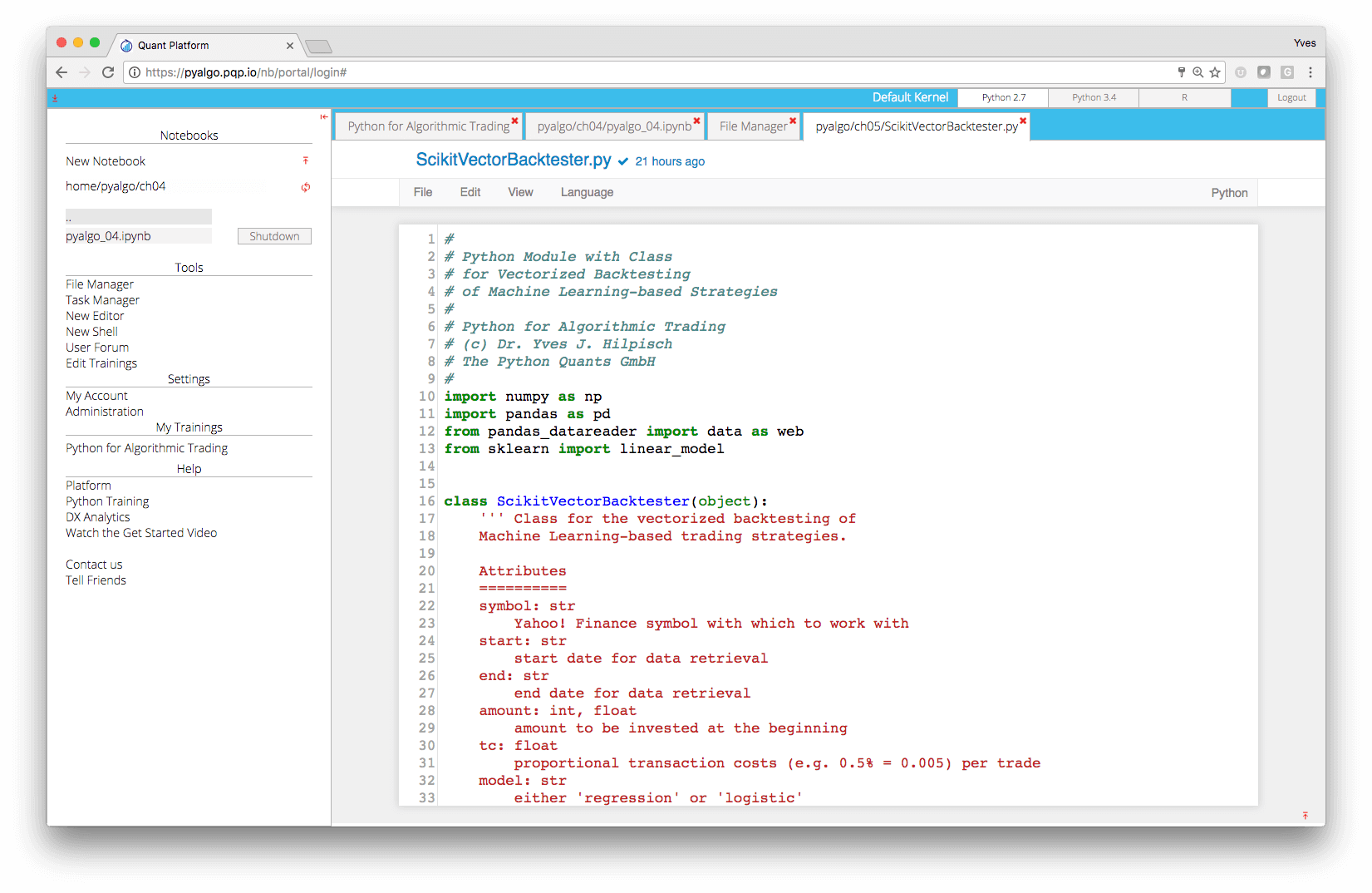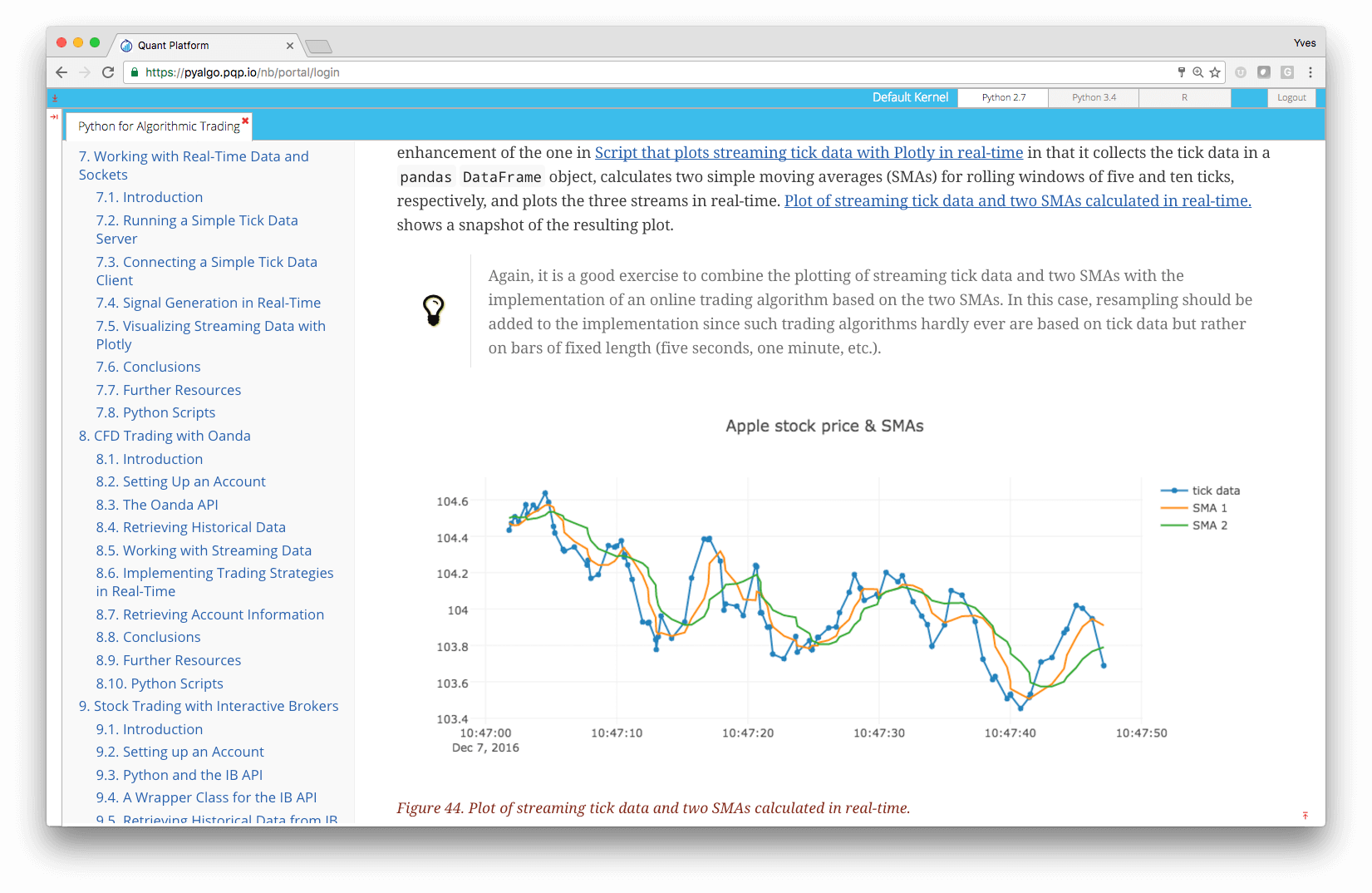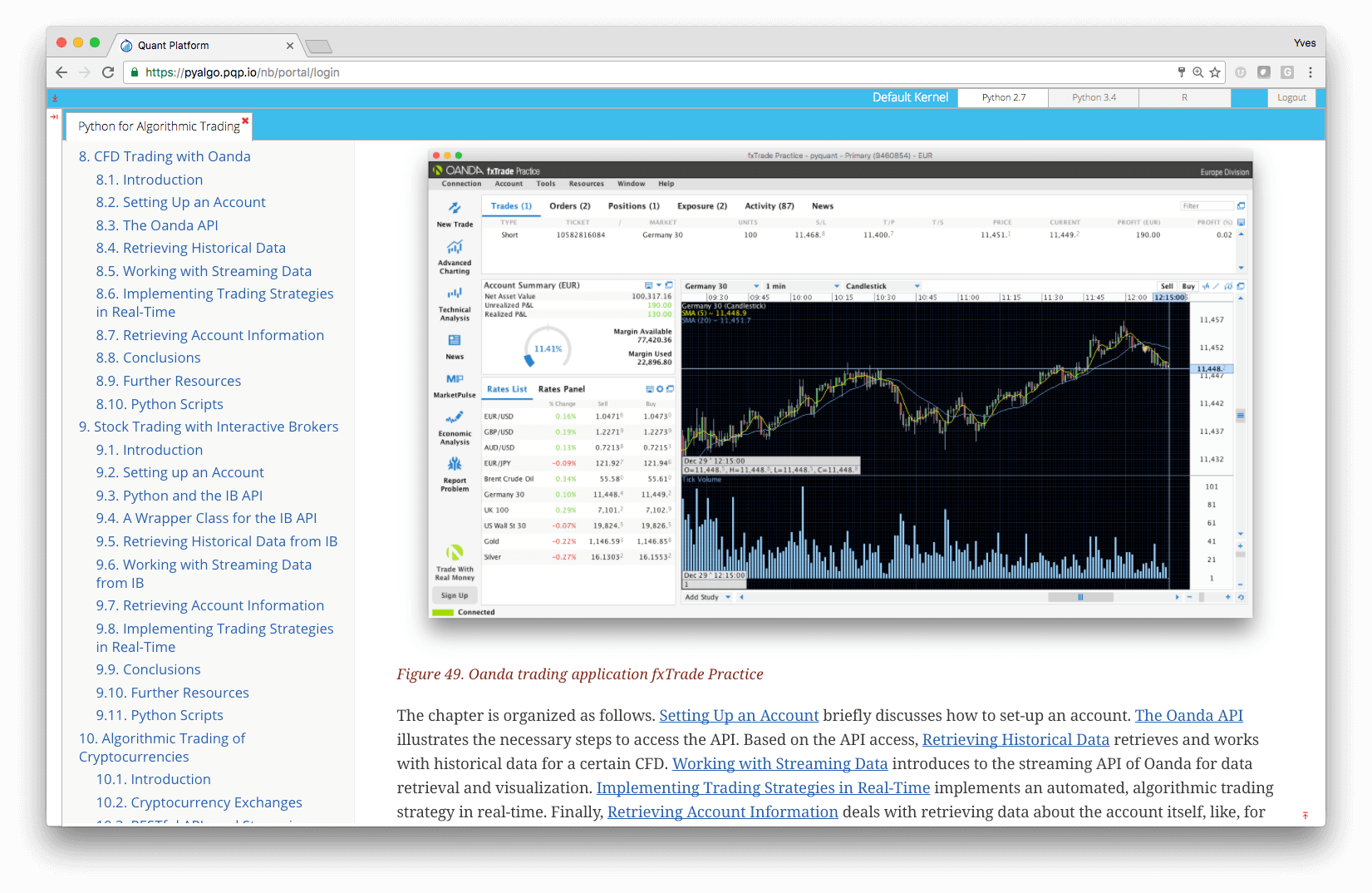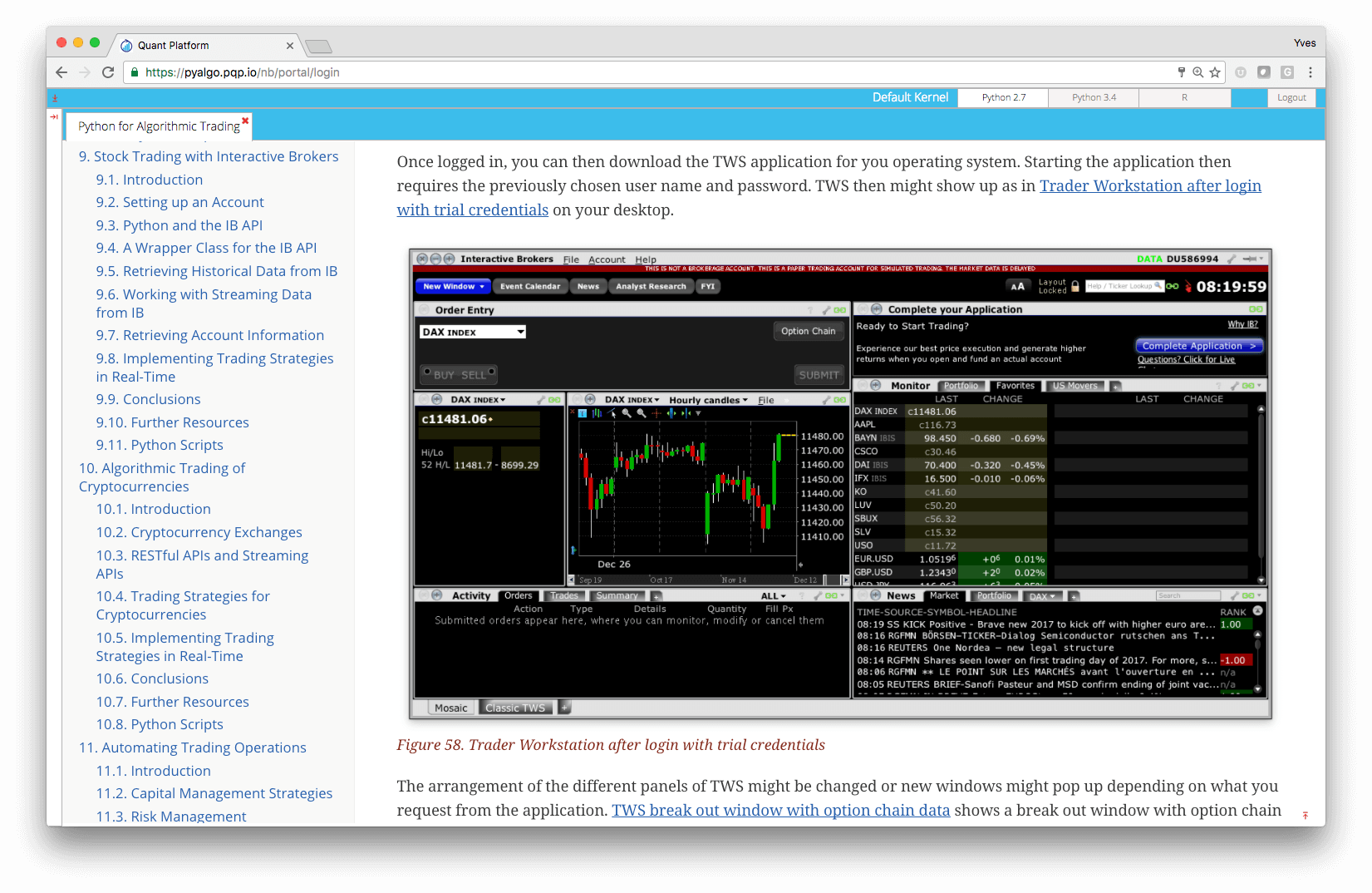 An incomplete list of the technical and financial topics comprises: benefits of Python, Python and algorithmic trading, trading strategies, Python deployment, package & environment management, Docker containerization, cloud instances, financial data, data APIs, API wrappers, open data, intraday data, NumPy, pandas, vectorization, vectorized backtesting, visualization, alpha, performance & risk measures, stock market prediction, linear OLS regression, machine learning for classification, deep learning for market prediction, object-oriented programming (OOP), event-based backtesting, real-time/streaming data, socket programming, real-time visualization, online trading platforms (for CFDs, stocks, options, cryptocurrencies), RESTful APIs for historical data, streaming APIs for real-time data, online algorithms for trading strategies, automated trading, deployment in the cloud, real-time monitoring — and many more.
The course offers a unique learning experience with the following features and benefits.
coverage of relevant topics

: it is the only course covering such a breadth and depth with regard to relevant topics in Python for Algorithmic trading

self-contained code base

: the course is accompanied by a Git repository on the Quant Platform containing all codes in a self-contained, executable form (3,000+ lines of code)

book version as PDF

: in addition to the online version of the course, there is also a book version as PDF (450+ pages)

certificate program (optional)

: The Python Quants offer an University Certificate Program (not included) based, among others, on this course that provides an interactive learning experience (e.g. to see the code executed live, to ask individual questions) as well as a look at additional topics or at topics from a different angle; overall, this program comprises 150+ hours of recorded and live instruction

real trading as the goal

: the coverage of three different online trading platforms puts the student in the position to start both paper and live trading efficiently; this course equips the student with relevant, practical and valuable background knowledge

do-it-yourself & self-paced approach

: since the material and the codes are self-contained and only relying on standard Python packages, the student has full knowledge of and full control over what is going on, how to use the code examples, how to change them, etc; there is no need to rely on third-party platforms, for instance, to do the backtesting or to connect to the trading platforms; you can do all this on your own with this course — at a pace that is most convenient — and you have every single line of code to do so available

user forum

: although you are supposed to be able to do it all by yourself, we are there to help you; you can post questions and comments in our user forum; we aim to follow up within 24 hours

Finance with Python Course

: our introductory course is now fully included in this package with 150+ pages of PDF content, Jupyter Notebooks and 7+ hours of video instruction

additional videos

: in your Quant Platform account, you also have access to 20+ additional videos mainly covering topics around Python for Algorithmic Trading from talks, webinars and workshops
Below a short video (about 4 minutes) giving you a technical overview of the course material (contents and Python codes) on our Quant and Training Platform.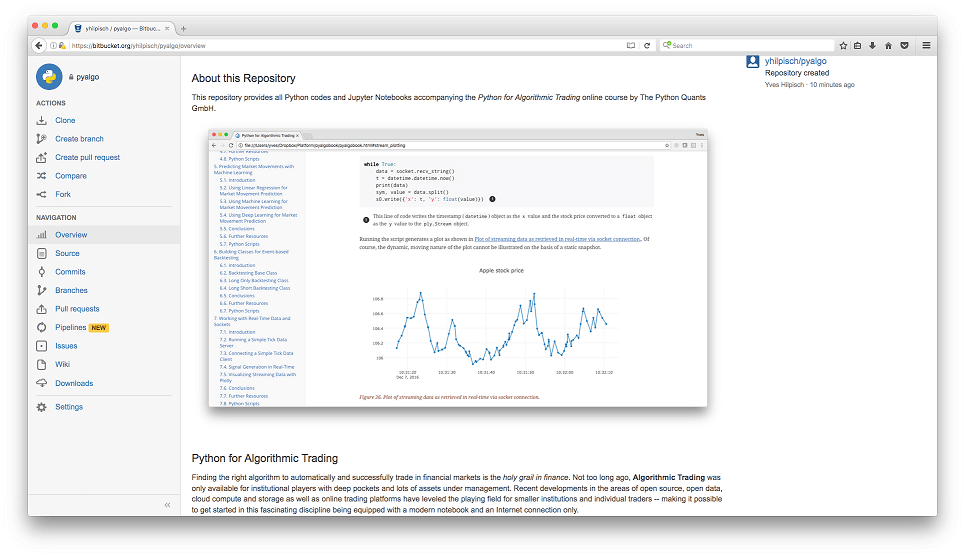 All Python codes and Jupyter Notebooks are provided as a Git repository on the Quant Platform (not public) for easy updating and also local usage.
Currently, we offer you a special deal when signing up today. Just pay 219 EUR instead of the regular price of 299 EUR. With your enrollment today you also secure access to future updates. This should help you quite a bit in making this potentially career changing decision. It has never been easier to master Python for Algorithmic Trading.
Simply place your order through PayPal for which you can also use your credit card.
Cancellations or refunds are not possible since users get full access to the complete electronic course materials (videos, HTML pages, PDFs, Jupyter Notebooks, Python codes, etc.). The course resources are copyrighted and not allowed to be shared or distributed. The resources are instructional and illustrative only. They come with no warranties or representations, to the extent permitted by applicable law.
Write me under training@tpq.io Stay informed about the latest in Open Source for Quant Finance by signing up below.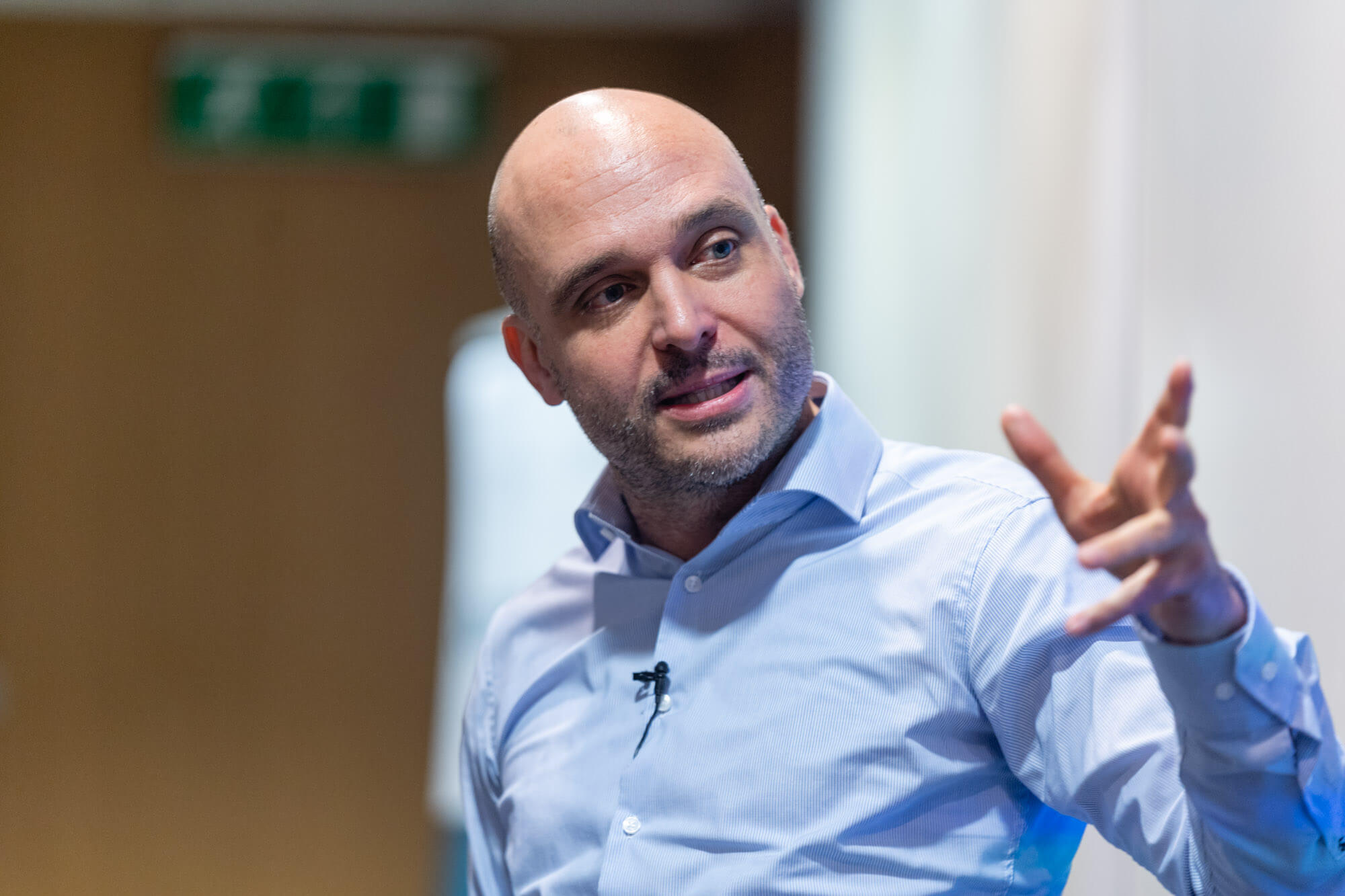 The Experts in Data-Driven and AI-First Finance with Python. We focus on Python and Open Source Technologies for Financial Data Science, Artificial Intelligence, Algorithmic Trading and Computational Finance.